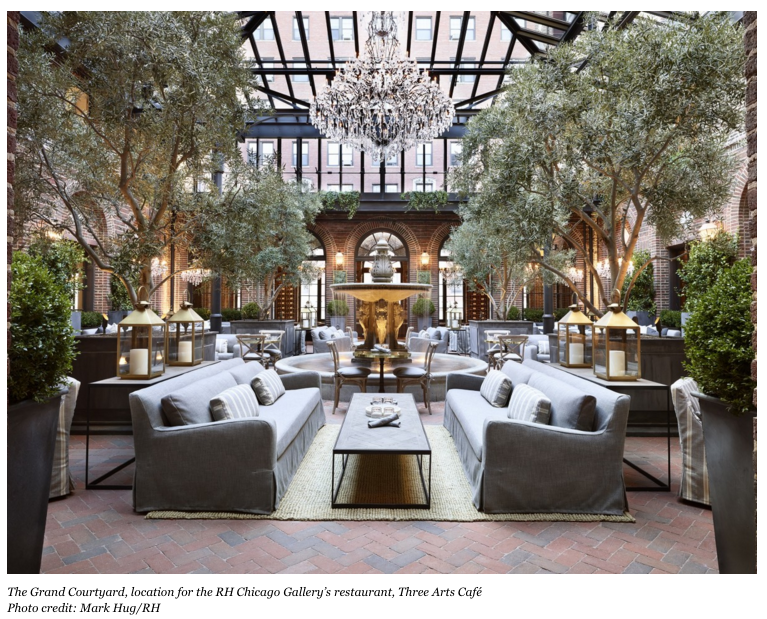 Would You Like Champagne With That Sofa? Restoration Hardware Bets Big on Experiential Retail
Picture it: you're sipping a glass of wine surrounded by plush furnishings and crystal chandeliers. Modern music is playing in the background and the soothing sound of a courtyard fountain elevates your mood. You're not sure whether to order another glass of wine, a crisp salad, or both. You decide to buy the furniture you're sitting on instead.
Welcome to RH Chicago, the Gallery at the Three Arts Club – a grand name for a grand new retail concept by Restoration Hardware that's part store, part art gallery, part restaurant, part event space and part interior design studio. When I visited the store on a recent weekday, I made my way past a crowd including valet parkers, sales associates wielding iPads, and well-dressed locals gathering to eat in the store's restaurant, which features a menu designed by Chicago restaurateur Brendan Sodikoff. I thought to myself: this is not your grandmother's furniture store.
"Most retail stores are windowless boxes that lack any sense of humanity," says Gary Friedman, Chairman and CEO of Restoration Hardware Holdings. "We wanted to blur the lines between residential and retail, and create a sense of place that is more home than store." And what a home it is: RH Chicago fills a whopping 70,000 square feet in a historic building in Chicago's toniest neighborhood, the Gold Coast. It was built in 1914 as a residence for young women studying music, drama and the visual arts, and is a culturally significant building for the city.
To read the full article on Forbes, click
here
.
Source: BB Wix