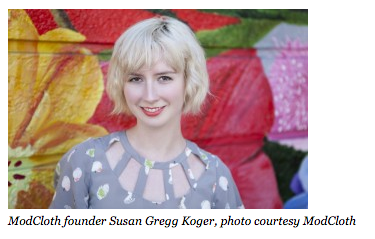 The Retailer Winning the Battle for Millennial Women
I have a girl crush on a fashion website called
ModCloth
. And I'm not the only one. ModCloth is an e-commerce business selling apparel, accessories and décor, and in a word, it's adorable. But don't let that fool you – the site may look as cozy as a kitten, but it's a lion in disguise. Modcloth is winning one of the most coveted audiences in the consumer marketplace: millennial women. Though definitions vary, millennials are generally described as people between 18 and 31 years old, who have grown up in the age of technology.
In 2010, ModCloth was named "
America's Fastest-Growing Retailer
" by Inc. magazine, which also ranked the business as the # 2 fastest-growing private company. Last year, the site's young founders, husband-and-wife team Susan Gregg Koger and Eric Koger, were named to
Forbes 30 Under 30
list. So what is this female-focused business doing right? In an interview with Susan Gregg Koger, who founded the site with her then-boyfriend Eric while they were students at Carnegie Mellon University, we discussed three ways in which ModCloth is capturing the imagination – and business — of young women consumers.
Every Product Tells a Story
For starters, just about every product on ModCloth has a name that tells a story. The creative names encourage shoppers to imagine themselves doing everything from tending an imaginary English garden to driving a convertible across the desert on Route 66. ModCloth is communicating to a generation that sees no barriers to what they can do or who they can become. Millennial women enjoy playing with their identities and trying on new ones. A recent perusal of product names revealed these gems:
"Journalism Seminar" Skirt
"Four Corners Visit" Cardigan
"Traveling Cupcake Truck" Dress
"A Grand Weekday Out" Dress
"Karaoke Songstress" Jeans
Source: BB Wix