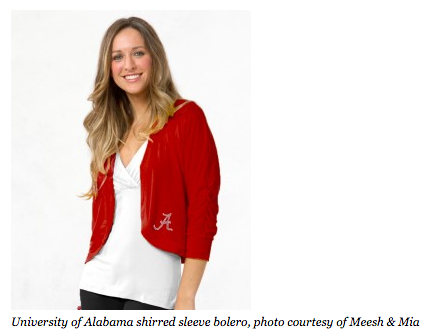 Marketing to the Female Fan
Do college bowl games make you think of women's fashion?
Me neither.
Until now. Turns out we weren't thinking big enough. Just when I thought that fashion had infiltrated every possible nook and cranny of life, from car interiors to cell phones, I discovered a slice of the apparel universe that had been standing on the sidelines: collegiate fan apparel for women.
Considering the pervasiveness of college "logo" apparel in the U.S., it's striking that this corner of the fashion world has remained so overlooked when it comes to creating high fashion versions for women. Especially when women dominate college campuses and make up 57% of university undergraduates, according to the White House Council on Women and Girls.
There's a good chance that sitting in your closet right now, you have one or more sweatshirts, tee shirts, sweat pants or hoodies emblazoned with the logo of the college you once attended, or a college you're a fan of, even if you're not an alumnus. (Notre Dame, I'm looking at you.) Generally speaking, apparel that features college logos has always been fairly unisex, with similar hoodie, tee shirt and sweatshirt silhouettes for men and women, boys and girls — even babies. We've learned not to expect collegiate fan wear to be fashion forward in a "runway" kind of way. Indeed, it never occurred to me this kind of clothing could be fashionable, until I met the folks behind
Meesh & Mia
.
Source: BB Wix